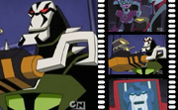 Following on from the first five videos covering extended and deleted dialogue from the Transformers Generation One cartoon episode More Than Meets The Eye - Part 1 we, at Transformers At The Moon, are pleased to bring you a video containing the changed, extended and missing dialogue from Part 2 of More Than Meets The Eye.
Part 2 of the episode starts at the oil rig as the Autobots save Spike and Sparkplug before returning to The Ark. Spike has picked up Soundwave, who he finds laying on the floor, enters The Ark to talk to the Autobots and is taken our for a ride by Hound.
This is where we join the new dialogue.

****************************************
HOUND: ...it was quiet and peaceful.
SPIKE WITWICKY: You miss it?
HOUND: Sometimes. Hold tight!
*NEW* SPIKE WITWICKY: Yahoo!! Yippee!! Waaooww!
*NEW* SPIKE WITWICKY: Woah, thanks Hound that was the greatest ride I have ever had
*NEW* HOUND: My pleasure Spike. See you later, I ... better go check my coil springs
*NEW* SPIKE WITWICKY: Oh, you didn't see a cassette player laying around here did you?
*NEW* HOUND: Nope. Sorry
*NEW* SPIKE WITWICKY: That's okay. I must have left it in the ship.  See'ya 
SPIKE WITWICKY: Hey! what's going on here?
SPIKE WITWICKY: Who... who are you?
[Ravage snarls before being ejected, this is corrected in the final version]
RAVAGE: *snarl*
SOUNDWAVE: Ravage! Eject! Eject!
*NEW* SPIKE: *coming around*
OPTIMUS PRIME: A Decepticon! Get him!
SOUNDWAVE: Ravage!

****************************************

****************************************
[The Decepticons start a tidal wave which is noticed back at the Ark]
[NOTE: In the Ron Friedman script there is additional dialogue between Jazz and Spike which was not recorded during the session that this tape was used.]

JAZZ: Could be the Decepticons, all right. I'll tell Prime!
*NEW* PRIME: Autobots ready! To the Air!
*NEW* WORKER: Run! They're coming!
*NEW* WORKER 2: Get back!
MEGATRON: I am Megatron - leader of the Decepticons! you will do exactly as I say!
****************************************

[Act 2 starts]
****************************************
MEGATRON: Perfect. The electrical output is at its peak. Exactly where I want it. Starscream, activate the null ray.
*NEW* MEGATRON: Skywarp! Thundercracker! Transfer the electrical power
MEGATRON: Soundwave, prepare the energon cubes.
MEGATRON: Quickly, quickly!
****************************************


****************************************
[NOTE: In the scripts Wheeljack is with Bumblebee and it's Ironhide who is with Trailbreaker. During the recording session that this tape is from the characters have been changed]

IRONHIDE: Stop talkin', tighten your shock absorbers, and get in! We're gonna make a new river!
BUMBLEBEE: Let's go!
*NEW* CIVILIAN: Help! Somebody help us!
*NEW* IRONHIDE: Ready the laser, Bumblebee - I think we're gonna make it!
MAN ON ROOFTOP: Thanks, neighbours!
OPTIMUS PRIME: Autobots, to the power plant!
*NEW* SUNSTREAKER: If I can just shoot some protoglue into the cracks - maybe we can save it
*NEW* TRAILBREAKER: Seems like the Decepticons want to shoot something else! Go ahead, Sunstreaker .. I'll cover you
*NEW* SUNSTREAKER: Sure hope this works, Trailbreaker
OPTIMUS PRIME: Autobots - To the power plant!
****************************************


****************************************
CLIFFJUMPER: For someone who doesn't like to fight, heh, you're not bad, Mirage.
*NEW* MEGATRON: It's a long way down Prime!
MEGATRON: Any last words??
OPTIMUS PRIME: None you'd wanna hear, Megatron!
****************************************

NOTE: Shortly after the previous dialogue Megatron say the following lines. 
MEGATRON: You fool, Starscream! Help save the Energon cubes! Get them out of here! Follow me!
NOTE: On the tape we own the line "Follow me!" is missing from this exchange.

NOTE: The tape of the recording session we own has slightly reorderd dialogue from Spike as Rumble emerges from the water. The dialogue is spaced out so that it could be cut and edited together and so we have decided not to include it within this video
SPIKE WITWICKY: Hound! Hound! You all right down there?
SPIKE WITWICKY: Hey!
*Line order swapped* SPIKE WITWICKY: Whoa!
*Line order swapped* SPIKE WITWICKY: Where's Hound?
SPIKE WITWICKY: Heelp! Heeelp!

NOTE: As Act 2 closes Megatron says the following line
MEGATRON: Who's the scrap metal now, Prime? You'll never stop me! (Laughs)
NOTE: On the tape this is then followed by the "Follow me!" cry that was missing earlier.
[ONTO ACT 3]


***************************
SPIKE: Hound! Are you down there?? *takes breath*
*NEW* HOUND: Thanks!
SPIKE: *spluttering*
HOUND: Easy, Spike. You almost flooded your engine.
***************************

[Megatron and Soundwave talk whilst a shot is fired]
***************************
MEGATRON: What was that? 
*NEW* STARSCREAM: Perfecto!
MEGATRON: Starscream! What in the universe are you doing?
STARSCREAM: Testing the Energon cubes ..
***************************


***************************
SPARKPLUG WITWICKY: You know something? I like bein' a spy a lot better than workin' the oil rigs.
*NEW* TRAILBREAKER: As long as you're on the right side
SPIKE WITWICKY: Look, Dad, no hands.
TRAILBREAKER: Heheh, big deal. I'm driving!
SPARKPLUG WITWICKY: Uh-oh, 
*NEW* SPARKPLUG WITWICKY: I think 
SPARKPLUG WITWICKY: we've got company!
*NEW* TRAILBREAKER: Decepticons!
SPIKE WITWICKY: Can't you go any faster, Trailbreaker?
TRAILBREAKER: Sorry, this is it! I'm not built for speed!
***************************

***************************
TRAILBREAKER: It's Sunstreaker and Sideswipe!
*NEW* SPARKPLUG WITWICKY: Go get 'em Autobots!
SUNSTREAKER: Hey! That's a new paint job!
***************************

***************************
SOUNDWAVE: Enough here to power the entire planet of Cybertron.
[WALLY BURR]: Alternate for scene at 450 Soundwave
SOUNDWAVE: Enough here to power the entire planet of Cybertron.
***************************


***************************
SPARKPLUG WITWICKY: There won't be any problem, Prime. This one's for Cybertron and Earth. Let's go, Bumblebee!
*NEW* SPARKPLUG WITWICKY: Looks like they mean business
*NEW* GUARD #1: STOP! Don't come any closer
*NEW* SPARKPLUG WITWICKY: Sorry to bother you - ah - but I think I'm lost. I was looking for an animal reserve - thought it was around where somewhere.
*NEW* GUARD #2: Who are you?
*NEW* GUARD #1: Blast him!
*NEW* SPARKPLUG WITWICKY: Thanks. That was close.
BUMBLEBEE: Come on. Let's go inside.
***************************

[Having entered the mine and explained about the ruby crystals]
***************************
BUMBLEBEE: What's that?
*NEW* SPARKPLUG WITWICKY: Move back!
THUNDERCRACKER: You know what Skywarp ..
***************************
 
 
***************************
SPARKPLUG WITWICKY: We have to do it now!
BUMBLEBEE:It's done.
SPARKPLUG WITWICKY: Let's move it!
*NEW* MEGATRON: Autobots!
SPARKPLUG: Oh, no!
*NEW* BUMBLEBEE: Run Sparkplug!
JAZZ: They ought-ta be outta there by now.
***************************