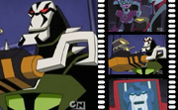 in a new interview with Hasbro Studios' Stephen Davies, posted on WorldScreen.com, some early details regarding the next Transformers TV series (a reboot) have been given out. Everything was pretty much as expected, that the series will be made with a lighter tone, aimed at a younger audience and taking queues from Rescue Bots.
TV KIDS: What new shows do you have coming up?
DAVIES: We have this great new show, which is kind of the entry point forTransformers for littler boys called Transformers Rescue Bots. Although interestingly, when we reimagined Transformers for a younger generation, typically big brother doesn't want to watch what little brother is watching, but because the Transformers brand resonates across so many generations and it's so relevant and relatable, we're actually finding that while we conceived Rescue Bots principally for 4- to 5-year-olds, the older brother, who is 7 or 8 years old, is also watching with little brother.

We just talked about co-viewing and children wanting to watch with their parents, well, now we have this show where little brother wants to watch with older brother and big brother also wants to watch with little brother, which is a phenomenal opportunity because, again, there are not a lot of shows where you have that kind of multigenerational appeal at all levels. In fact, Rescue Botsinspired us for our new chapter of Transformers, because Rescue Bots is a much simpler show to understand, the transformations are much simpler, and it's a lighter, brighter, more humorous approach. So a lot of what we learned fromRescue Bots we are now applying to our new Transformers series.

It starts with Transformers; we've had several very successful seasons ofTransformers Prime. Excitedly, Finn Arnesen, who runs international distribution for us, is introducing our new Transformers series, which is a lot of fun because it really harkens back to the old Transformers: Generation 1 days. It's a lighter, brighter more comedic show. It's still full of all the wonderful characters that our fans love, but it's really a complete reimagination of our Transformers series, which we will be rolling out next year.