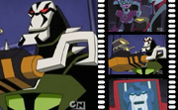 Jim Sorenson has posted a new Ark Addendum entry onto his blog entitled "Sureshot's Transform (and even more Farscape)." As you can guess, the entry covers the Targetmasters transformation sequence but here is Jim to tell you more:
"The Ark Addendum marches on! I'm honestly not sure what I'll bring you next week, but this week I finish off the last of many partial sequences I've been through, the transformations for the Headmaster characters.

Sureshot's our boy this time. I'd say my favorite image is probably step 1, just showing the car zooming along at high speed. It's nice that they didn't just reuse the basic car model. It's a bit odd that they violate the 180 degree rule from that shot to the next one, though."