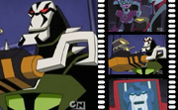 DVD Talk have a review of the Transformers Prime Series Blu-Ray disks
Video & Audio Quality
Presented in its original 1.78:1 aspect ratio, this 1080p transfer of Transformers Prime: Season One is excellent but not perfect. To be fair, a few small problems are inherently due to the source material, including mild aliasing and jagged edges. Mild compression artifacts can also been spotted along the way, which seems like more of an authoring issue than anything else. Either way, what's here is largely impressive, as the image is typically razor sharp with vivid, striking colors and strong black levels. So while there's room for improvement, I'd imagine that most fans of Prime will be pleased.

The audio is a touch more consistent, as each episode arrives with your choice of DTS-HD 5.1 or LPCM 2.0 mixes. The former creates an enveloping and dynamic soundstage from start to finish, often filled with plenty of surround activity once the action heats up. A bit more low end would've helped to sell some of the action, as well as some added "punch" for the gunfire. Dialogue is crisp and the score is also well-represented with no obvious sync issues. Overall, fans won't find much to complain about here, as this ambitious audio presentation is leaps and bounds above most animated TV shows.
Bonus Features
Unlike the show itself, almost all of these bonus features seem to be aimed directly at older fans. The bulk of these are 14 Audio Commentaries that largely focus on episodes from Discs 1 and 4; more often than not, they do an excellent job of covering all the bases. Featured participants include several producers, a number of representatives from Hasbro, animation and art directors, composer Brian Tyler, several directors and writers, a handful of voice actors (including Peter Cullen and Ernie Hudson) and...Bumblebee, just to name a few. These are generally fun and informative audio commentaries... which is good news, because the remaining bonus features don't dig quite as deep.

Disc 4 houses the remaining extras, which lead off with a promotional Behind-the-Scenes Featurette (11:03). It's short and not especially enlightening, though I enjoyed seeing a handful of voice actors do their thing. Also here is a slightly more in-depth Toy Featurette that focuses on Prime's characters and how they selected the roster (16:30), as well as a ridiculously short Teaser for Season 2 (0:20). Like the episodes, these bonus features are presented in 1080p and do not include optional subtitles.

Also included in this "Limited Edition" package is a softcover Graphic Novel that serves as a Prime prequel of sorts. It's a nice little bonus and quite substantial at 96 pages, but I'm assuming that later releases of this boxed set will omit the book (although I'm guessing it'll still be available separately).