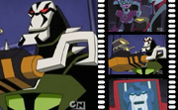 UK fans of Transformers Prime will be pleased to hear that Season 2 Volume 1 of the show was released yesterday (7th July 2014) on both Digital and DVD format. Below you will find part of the press release which has been published to advertise the release which includes word that there is a limited edition DVD which comes with a toy and trading cards
TRANSFORMERS PRIME SEASON 2 VOLUME 1 AVAILABLE TO OWN ON DVD AND DIGITALLY FROM 7 JULY!

The AUTOBOTS will roll out when TRANSFORMERS PRIME Season 2 Volume 1 comes to DVD and digital download on 7 July. For the ultimate TRANSFORMERS fans there is a limited edition DVD, complete with TRANSFORMERS figure and TRANSFORMERS trading cards.

Peter Cullen, Frank Welker, Josh Keaton, Jeffrey Combs, Kevin Michael Richardson, Steve Blum and Sumalee Montano lend their voices to this hit series produced by Hasbro Studios. Spearheading the creative efforts on TRANSFORMERS PRIME are executive producers Jeff Kline, Alex Kurtzman, Roberto Orci, Duane Capizzi and Stephen Davis.