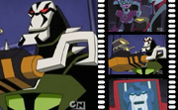 Zap2it has once again updated their listings with summaries of the next four episodes of Tranformers Rescue Bots Resecue Bots Season 3.

S3 E11 - Did You See What I Thaw?: The Bots discover a caveman preserved in ice and attempt to help him adjust to modern life.
S3 E12 - The Attack of Humungado: Monsters from Kade's favorite movie materialize; it's up to the Dino Bots to corral the Kaiju.
S3 E13 - Thieves Like Us: The Bots must contend with thieving miniature souvenir replicas of themselves.
S3 E14 - Time After Time: A renovated clock tower causes Cody to relive the same morning over and over.