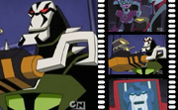 Thanks to the awesome folk at Abundant Marketing we are pleased to announce that we have been given two copies of the Limited Edition Transformers Prime Season 2 Volume 1 Orion Pax DVD sets, with UK Exclusive Arms Micron figure and Card to give away!

To enter the competition you simply need to do one of the following:
1. Reply to one of our Tweets related to this competition (You can find us on Twitter @transformertoys)
2. Send us a Direct Message on Twitter to @transformertoys
3. Send us a private message on Google+
4. Send us a private message on Facebook (facebook.com/transformertoys)

The two winners will be chosen at random on the evening of Wednesday 21st July 2014.
We are only accepting UK residents for this competiton as the prize is for Region 2 DVDs.