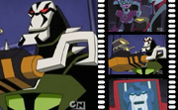 This is an original recording from the 1984 Transformers Cartoon featuring a one on one session between director Wally Burr and actor Chris Latta.
The session was to record four minutes of library sounds for the Decepticon Laserbeak.
For 32 years it was believed that Frank Welker was the voice of Laserbeak. Whilst posting some of the original Transformers Generation One session recordings it was noticed, by Chris McFeely, that the Laserbeak squawks sounded like Chris Latta. Further recordings would indeed prove this hypothesis.
Please sit back and enjoy this previously never hear session between two Transformers greats.