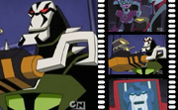 The audio contained within this video has been taken from an original cassette recording of a one-to-one studio session between Wally Burr (directing) and Frank Welker (performing), with the tape dated 9th August 1984.

The session features vocoded effects for Ravage and is from the Transformers Generation One series. The audio was recorded during the Season One sessions and was added to the end of a cassette containing the unslugged audio for War of the Dinbots along with audio of the Hound / Rumble fight from the episode More Than Meets The Eye.

This is the original audio from the tape.