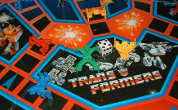 Hero Collector, Eaglemoss' genre collectables division, have announced that they are producing a crowd funded Transformers chess set based on the original Sunbow / MP Transformers cartoon that is officially licenced by Hasbro. You can find a full press release below as well as the two official videos.
Click the Read More link for all the images and check out the campaign by visiting herocollector.com/transformerschess
The official advert for the video can be viewed below
With the longer Kickstarter video available below.
Press Release
Hero Collector and Hasbro Join Forces
To Bring Transformers Chess To Kickstarter
(London, UK – 13 August, 2021) Hero Collector – award-winning designers and publishers of high-quality collectibles from across the worlds of pop culture – is joining forces with Hasbro to launch their first ever Kickstarter campaign: an all-new Transformers Chess Set!
This epic chess set will feature 32 unique game pieces – 16 for the heroic Autobots and 16 for the villainous Decepticons – created specifically for the Kickstarter and modelled on the classic 1980s Generation One (G1) Transformers animated cartoon! Each model is digitally sculpted, then cast in metallic resin and painted by hand. The sculpts, which show the Transformers in their robot form, were developed with Hasbro and are based on the original animation designs and careful study of the animated series.
Standing 4-6" tall on a base marked with the symbol for the relevant chess piece, these robotic warriors will wage war on an exclusive Cybertron-themed chess board, with color-coded symbols in Autobot red or Decepticon purple. These two warring factions include such iconic characters as:
Autobot King: Optimus Prime. The beloved commander of the Autobots, Optimus Prime championed freedom in countless clashes across Cybertron – and Earth, where he adopted his famous truck alternate mode.

Autobot Knight: Hot Rod. A young and brash Autobot with a race car alt-mode, Hot Rod eventually grew to lead the Autobots – as Rodimus Prime!

Autobot Pawn: Bumblebee. The heart of the Autobots, Bumblebee was quick to befriend their human allies in his iconic yellow beetle alt-mode.

Autobot Pawn: Prowl. The surly strategist of the Autobots, Prowl's police car alt-mode suited his no-nonsense personality.
Decepticon King: Megatron. The feared leader and founder of the Decepticons, and the eternal nemesis of Optimus Prime, Megatron sought nothing less than complete iron-fisted domination of Cybertron!

Decepticon Queen: Starscream. The scheming second-in-command of the Decepticons, Starscream constantly plotted to overthrow Megatron.

Decepticon Knight: Soundwave. The loyal comms officer of the Decepticons, Soundwave gathered intelligence using his trio of cassette-minions.

Decepticon Knight: Shockwave. The ops commander of the Decepticons, Shockwave's cold logic and laser-turret mode made him a deadly threat.
This Kickstarter launches on 13 August, 2021 – with a delivery date of Q4 2022. A variety of backer gifts are planned for fans who want to go the distance in bringing this game to life – including a Transformers pin badge, Transformers profile book, and more exclusive Gen-1 chess pieces!
Fans and collectors should stay tuned for further information, such as the full roster of characters and details of stretch goals. You can visit the page now at herocollector.com/transformerschess
ABOUT HERO COLLECTOR
Hero Collector is Eaglemoss' imprint for genre collectables and is one of the world's leading producers of figurines and fantasy die-cast vehicles. It makes products based on many of the world's most popular entertainment brands. For more information, visit www.herocollector.com and www.eaglemoss.com.
ABOUT HASBRO
Hasbro (NASDAQ: HAS) is a global play and entertainment company committed to making the world a better place for all children, fans and families. Hasbro delivers immersive brand experiences for global audiences through consumer products, including toys and games; entertainment through eOne, its independent studio; and gaming, led by the team at Wizards of the Coast, an award-winning developer of tabletop and digital games best known for fantasy franchises MAGIC: THE GATHERING and DUNGEONS & DRAGONS.
The company's unparalleled portfolio of approximately 1,500 brands includes MAGIC: THE GATHERING, NERF, MY LITTLE PONY, TRANSFORMERS, PLAY-DOH, MONOPOLY, BABY ALIVE, DUNGEONS & DRAGONS, POWER RANGERS, PEPPA PIG and PJ MASKS, as well as premier partner brands. For the past decade, Hasbro has been consistently recognized for its corporate citizenship, including being named one of the 100 Best Corporate Citizens by 3BL Media and one of the World's Most Ethical Companies by Ethisphere Institute. Important business and brand updates are routinely shared on our Investor Relations website, Newsroom and social channels (@Hasbro on Twitter, Instagram, Facebook and LinkedIn.)
© 2021 Hasbro, Inc. All Rights Reserved.