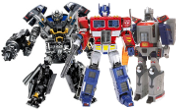 There is only 5 hours left to back TakaraTomy's 35th Anniversary Convoy Command Box set - https://greenfunding.jp/startupgate/projects/2912
For your money you receive the golden Convoy trophy, S.T.A.R.S Member Set, and Fight! Super Robot Lifeform Transformers Super Complete Works set which contains hundreds of character models and notes from the production of the Generation One cartoon series including previously unseen models.
The crowd funding is only open to Japanese residential addresses but anyone can back if you can have the items sent to an address in Japan.
Currently the project is only has 45% of the required backers and does not look like it is going to be funded.