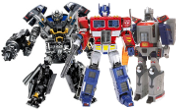 During an interview with The Full Force podcast Mark Weber, ex-Manager of Global Brand Development for G.I. Joe and Transformers at Hasbro, touched on some of his concepts for the Transformers brand (6hr 19min), including "Generation Three", as well as the interview process with Hasbro (6hr 10min).
The first line he worked on was BotShots and that they wanted to do multi-packs. Their pitch was "Volcano Battle Autobots" and he thought that if you were doing groups of five robots then you should just do combiner teams even if they can't combine, because the characters were already established within the mythos and would mean more to both the average fan and to the die-hard collectors. The first toy set he did was the Stunticon BotShot pack.
Combiner Wars came out of the story pitch idea with IDW where they wanted to get all of the combiners together to have a big fight.
When he first pitched the toy idea he said "Looked it's worked before where you take a larger robot and you add the limbs and if you make the connectors universal then you can reuse the tooling a million times down the road in different combinations and the voyager center should support the deluxe size arms and legs and if you throw in the legends class, the little tiny guys, and make that another part of it ... it was a way to link three different price builds."
When asked by Chris, the host, as to how excited were the people he was pitching it to Mark talked about how he had all of the original combiners with him and would take them with him to show them how it worked. He said that it was something that worked before and that they hadn't really done it well ever since. They were a little lukewarm as they had done Powercore combiners recently, but that they had ignored so many of the things that made it cool, that the new pitch got them excited. He also put forward having a new concept a year and he had a couple of different ones that he wanted to use. Combiner Wars as his favourite and it was going to be the second one. He felt that because it was strong that it needed to come out first as he was so sure that it was going to be a big deal. The retailers liked it so well that it was extended by 6 months. They pitched it to retailers that it would be a trilogy of Combiners Wars, Titans Wars (later changed to Titans Return due to legal) and then Power of the Primes as the finale. For him, he just wanted to get out Combiner Wars.
The one thing that he regrets was not being able to launch a fully branded G3 (Generation Three) with all new stuff, all new characters and all new styles which he was dying to get there but he didn't end up going in that direction. He said that G2 was such a big deal for Transformers he doesn't understand why they haven't just done G3.
The basic concept that he wanted to have was that the Ark 2.0, a different Autobot ship comes to Earth chasing Decepticons, maybe not crashing, so that instead of being the pursued they were the hunters. All he wanted was an anti-hero for the Autobots sort of along the lines of Grimlock but not in the aggressive dinobot nature, but someone that Optimus could argue with and that you could take the side of. So that you can have a hero-vs-hero line, like Marvel Civil War, so that you could be on either side of the argument but be fully passionate about it. He hadn't fully fleshed out the character any more than that but he wanted them to be new, he didn't want it to be Grimlock's crew, Springer and the Wreckers, he wanted it to be a brand new guy that fans could rally around or dislike because he was so anti-Optimus.
He wanted new styles such as a large snowplow that would become a shield or something. His big pitch was to have a black and grey Decepticon that would probably be a lieutenant rather than the leader, but he would turn into a hearse and would have been called Tombstone, which was passed as being ok by the legal team. He knew it was campy but it would be a bigger vehicle and would give them some bulk. It's where the name of the G.I.Joe figure came from as he loved the name.
He thinks it would have been big and a lot of the designers that he worked with are still there, even though many of the Transformers staff has been turned over. He holds out hope that some of the ideas may still see the light of day.
He thinks that going Generation 3 would be a natural fit for the next line. He doesn't know where they are going next but he thinks that new characters are desperately needed for lines such as Transformers and G.I.Joe rather than trying to reboot the characters that have not been redone recently.
You can listen to the podcast by following the link at the start of this post. Whilst the full 9 hour podcast covers Transformers including unreleased figures shown by us here at Transformers At The Moon, the interview section starts at 6 hours and 10 minutes.