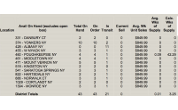 Hasbro have pushed out a major update to their website which has revealed a whole host of new Transformers listing for 2014. The full list is as follows:
Transformers Generations
Generations Voyager Brainstorm
Generations Voyager Roadbuster
Generations Voyager Skybyte
Generations 30th Leader Jetfire
Generations 30th Leader Megatron
Generations Deluxe Arcee
Generations Deluxe Chromia
Generations Deluxe Hardhead
Generations Deluxe Jhiaxus
Generations Legends Brawn with Mudslinger
Generations Legends Gears with Eagle Eye
Generations Legends Cliffjumper
Generations Legends Gnaw with Gnash
Beast Hunter Deluxe Value Packs (4 of them, most likely Black Friday deals)
TRA Black Hunter Nemesis Prime
TRA Black Skyfire
Blindpacks - Jazz, Bumblebee, Cliffjumper, Grimlock
Construct Bots Rider Autobot Drift
Construct Bots Rider Bruce
Cosntruct Bots Rider Bumblebee
Construct Bots Rider Lockdown
Cosntruct Bots Rider Duke
Construct Bots Rider Max
Transformers 4: Age of Extinction
Deluxes
A6509 BUMBLEBEE, CLASSIC/HIGH OCTANE (SAME ID #)
A6510 CROSSHAIRS/SLINGSHOT
A6511 DINOBOT SLUG
A6512 "SOUTHPAW"
A7812 LOCKDOWN
A7813 DRIFT
A7814 STRAFE
A7815 DINOBOT SLASH
A7979 PDQ
A8113 SNARL
A8114 RALLY CAR
A8115 DECEPTICON STINGER
Voyager
A6514 OPTIMUS PRIME "EVASION MODE"
A6515 GRIMLOCK
A7946 HOUND
A7947 GALVATRON
A8117 SLOG
A8118 DRIFT
A9181 OPTIMUS PRIME AND GRIMLOCK
Leader
A6518 GRIMLOCK
A6517 OPTIMUS PRIME
???
A6519 OPTIMUS PRIME, FIRST EDITION/PLATINUM EDITION
A7769 SILVER OPTIMUS PRIME
Jousters/Sparkers
A6493 LOCKDOWN AND "WOLF"
A6494 OPTIMUS PRIME AND GRIMLOCK
A6495 BUMBLEBEE AND STRAFE
A6496 SLINGSHOT AND "SOUTHPAW"
A6499 DRIFT AND SLOG
A6500 BUMBLEBEE AND STRAFE
A7681 DRIFT AND SLOG
A7684 HOUND AND SLASH
Cyberverse
A7759 BUMBLEBEE
A7760 OPTIMUS PRIME
A7762 GRIMLOCK
A7763 HOUND
A7764 LOCKDOWN
A7766 GRIMLOCK (with Optimus?) - listing number is also shared with Southpaw and Slingshot.
A7767 STINGER SLOG
A7768 STRAFE (with Bumblebee?)
PopBots
A8242 OPTIMUS PRIME
A8243 BUMBLEBEE
A8244 LOCKDOWN
A8245 CROSSHAIRS
A8246 DRIFT
A8247 GRIMLOCK
A8248 STRAFE
A8410 "STINGER"
Titans
16" Champions
16" Guardians
16" Grimlock
16" Optimus Prime
6" Bumblebee
6" Guardians
6" Grimlock
6" Lockdown
6" Optimus
?? Drift
?? Bumblebee
?? Guardian Grimlock
?? Hero Bumblebee
?? Hero Grimlock
?? Optimus Prime
?? Optimus Prime Knight
?? Hero Slingshot
?? Hero Stinger
?? Lockdown
Masterpiece
Credit goes to TFW2005.com members for spotting the update