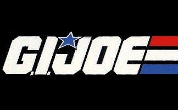 We have updated the G.I. Joe instruction sheets section of the website with some new PDF instructon sheets entries.
Of the updates, the following new entries were added into the database:
SKY SWEEPER JET Instructions
SMOKE SCREEN TRANSPORT Instructions
SURE FIRE and COBRA SLICE figures Instructions
SWAT TEAM SILENT ENTRY Instructions
You can download copies of the instruction sheets from our Hasbro Toy Instruction Sheets section of the website.