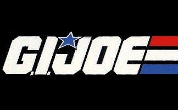 More news for G.I-Joe fans, Dennis Quaid has signed on to the project to play General Hawk, with Arnold Vosloo signing on to play the ever-popular Zartan. There is still no word on who will voice Destro, though we expect the actor to be announced in the coming forthnight.

This news follows closely on the heals that Hollywood Reporter broke regarding Channing Tatum will be playing Duke in the film. The role was originally going to be played by Sam Worthington, though he could not coordinate the production's schedule with his current work on James Cameron's "Avatar," which has run over schedule.
Here's a reminder of the cast list thus far.
Hawk - Dennis Quaid
Duke - Channing Tatum
Snake Eyes - Ray Park
Scarlett - Rachel Nichols
Ripcord - Marlon Wayans
Heavy Duty - Adewale Akinnuoye-Agbaje
Breaker - Said Taghmaoui
Rex - Joseph Gordon-Levitt
Zartan - Arnold Vosloo
The Baroness - Sienna Miller
Storm Shadow - Byung-hun Lee
The actor for Destro will probably be announced in the next week or so