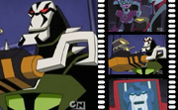 Hasbro have issued the following press release regarding Hasbro Studios which makes mention to new programming being planned for many of their brands including Transfomers right at the end of the release. Of course it could just be that they wanted to throw in some of their biggest properties into the press release and, therefore, does not mean that its a 100% certainty that Hasbro Studio will be behind the next animated incarnation of the Transformers brand.

Hasbro, Inc. Announces Key Executive Appointments for Hasbro Studios

PAWTUCKET, R.I.--(BUSINESS WIRE)--Hasbro, Inc. (NYSE:HAS - News) announced today the appointment of key executives at the company's newly formed Hasbro Studios, which is based in Los Angeles. Industry veteran Stephen J. Davis, President of Hasbro Studios, will lead the "virtual" studio, which will produce shows based on Hasbro's world class brands, deliver new branded content and produce programs from top third party content creators. Many of these shows will run on the new television network created by the joint venture between Hasbro and Discovery Communications (NASDAQ: DISCA - News, DISCB - News, DISCK - News), that is planned to debut Fall 2010, as well as on multiple channels in international markets.

Davis has named the following individuals to take on key roles as part of the Hasbro Studios management team: Bob Boden currently Senior Vice President, Programming and Production Fox Reality Channel and former SVP of programming for the Game Show Network, will be Head of Reality and Game Show Development and Production. Michael J. Vogel, currently Director, Animated Programming, Sony Pictures Television, will serve as Head of Boys Animation. Brian Charles Lenard, Director, Scripted Development, RDF Media Group, Pangea Management Group and RDF USA, will take on the role of Head of Story Development. Mary Beth Bambridge, Head of Strategic Planning, William Morris Endeavour Entertainment, will be the company's Head of Finance, and Kevin Healy, Head of Business and Legal Affairs, Hasbro Entertainment and Licensing will serve as Hasbro Studios' Head of Legal and Business Affairs.

"There are a number of factors that makes heading up Hasbro Studios such an exciting opportunity," Davis said. "First, great programming requires great content, and we have the unique opportunity to take an amazing portfolio of iconic brands into all new and creative places. Second, I have been given the green light to hire the best in the business, and the appointments we are announcing today demonstrates that Hasbro Studios will have the creative and intellectual firepower necessary to do great things. I am delighted with the team we are putting in place," Davis concluded.

As previously announced, Hasbro Studios' productions will feed all platforms, domestically and globally, including television, the Internet and mobile. New programming is planned based on brands such as ROMPER ROOM, TRIVIAL PURSUIT, SCRABBLE, CRANIUM, MY LITTLE PONY, G.I. JOE, GAME OF LIFE, TONKA and TRANSFORMERS, among many others.