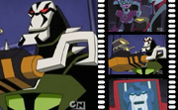 We've waited for over 10 years for this news, but finally Beast Wars II will be getting a release on DVD.
Rakuten has posted an interesting new listing, Transformers Beast Wars II DVD Boxset containing all 43 episodes and is scheduled to release on October 20th for 29,400 yen.
If you want to see the characters from Beast Wars II then head to Auto Assembly, starting tomorrow, as the toy display theme for this year in Japanese Beast Wars!