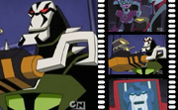 The latest video containing previously unheared Transformers Cartoon diagloue from the Generation One Season One episode The Ultimate Doom Part Two is now available on YouTube.
Here is a transcript from the video
700-09 Transformers show
Intro
Wally Burr gets Frank Welker to redo a ravage snarl
Burr: Eleven. This is Eleven Ravage Take one
Welker: Various snarls
--
As Rumble prepares to use his pile drivers the ground cracks. Megatron commands Soundwave to use disruptor waves against the Autobots.
Wally has the actors read three levels (A,B,C) of groans.
The scene is introduced by Jazz
Actors: Various groans
----
**Amended Scene due to use of Jetfire rather than Skyfire **
Wheeljack: Amazing! This volcano is becoming active again"
Optimus Prime; Autobots! Transform!
Skyfire: Holy halogen luminators!
**Skyfire swiftly transformers into jet mode and intercepts the endangered Autobots.
Skyfire: Have no fear, Jetfire is here! *amended line*
----
**Amended Scene due to use of Jetfire rather than Skyfire
Optimus Prime: I'm not certain, but for the moment, I feel we must not let the boy find out.
Spike: Find out what?
Optimus Prime: Spike, we have information that Sparkplug has been taken to Cybertron.
Spike: Dad? On Cybertron? Optimus Prime, let me take Jetfire. We'll get him back. *amended*
----
**Amended Scene due to use of Jetfire rather than Skyfire **
Autobots: Cheer
Trailbreaker: Let's see the trajectory map, Jetfire. *amended*
Skyfire: Roger. Coming up.
Trailbreaker: There's our position now. When we reach this point, I'll activate a jammer beam to mess up their scanners.
Bumblebee: Uh-oh, I think it's too late. Look!
Wheeljack: Jetfire! Missile shields up! *amended*
----
REMOVED SCENE
Once on Cyberton Spike falls into a trap and is quickly followed by Bumblebee. The Autobots send Brawn in to help.
Spike: Yahh-ooww
Bumblebee: I'm comin' with ya!
Wheeljack: Brawn, follow them! We won't fit!
Brawn: Gotcha, Wheeljack!
Spike: I blew it, guys. We're sunk now!
Brawn: Not yet, we aren't.
Bumblebee: What is it?
Brawn: A ventilator shaft. It might be a way out.
Bumblebee: You really think so?
Brawn: Got any better ideas?
Spike: Which way?
**A panel lowers down behind them, closing off their retreat.**
Brawn: Forward.
**The following scene was removed**
Spike: It's getting warm in here!
Spike: Ouch .. ooohh
Spike: Ohh, this metal's hot as an oven!
Brawn: Here, climb on.
Spike: *breaths in*
Brawn: Must be some kind of automatic security system. The heat is supposed to burn out any foreign substances ...like ..... us
Bumblebee: I'm not a foriegn substance, this is my home planet!
Spike: **gasping struggling for breath** I..I can't ... take ..much ... more
Brawn: And you won't have to
Spike: Yells, ahh ahh ohh, ohh
**End of new scene**