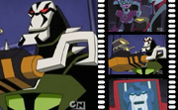 In a Facebook quote Hasbro have revealed that Steeljaw (the dogfaced car) is the new leader of the Decepticons for the 2015 series Transformers Robots in Disguise. Whether there will be another "bigger leader" revealed later in the series is unknown.
The facebook quote can be seen here
Eagled-eyed fans had already noted that Steeljaw appear in many variations of the Transformers Robots in Disguise toy line, so his appointment as leader is not a total suprise.
Steeljaw's toy is out now in