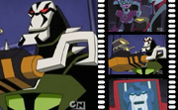 James Eatock (Cereal Geek) has revealed more of his finds of never-seen-before Generation One preproduction material via Instagram.
Following on from the blue Bluestreak cell and animation colour sheet James revealed a coloured animation cell of Ravage with his original blue and red colour scheme!
This was followed up by a look at an early concept of Mirage who looks instantly recognisable and yet also instantly different at the same time.
Finally, James revealed another art piece last night which he refers to as an early promotional sketch that would later evolve into the cover for the Panini sticker album!