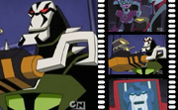 The third episode of Machinima's Power of the Primes series, "Without Warning" is now available via the go90 app within the US and on tumblr for everyone else.
The official synopsis for the episode was:
Still without Megatron, the team must now fend off both Volcanicus and Predaking. Meanwhile, Megatronus arrives at the Well of Sparks to forge a new device that will help him accomplish his nefarious plan.