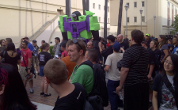 TFNation have announced that IDW artist Jack Lawrence will be a guest at TFNation 2023 which takes place in August in Birmingham England. You can read the full announcement below.
They said it couldn't be done, but here at TFNation we are ready to bring you all of your fan-favourite artists, guests, and people involved with Transformers! So please join us in welcoming back artist, nerd, and world-renowned excellent hugger, Jack Lawrence!
Lawrence has been behind the scenes and embedded in Transformers fandom since the early days of the UK scene. He is a staple of the IDW Publishing series, known for his work on Sins of the Wreckers and Lost Light first, then Wreckers: Tread and Circuits and War's End later. You may also recognise his work on Sonic the Hedgehog, Skylanders, and several covers for IDW licensed series.
Jack Lawrence will be joining us for TFNation 2023, drawing bots, beasts and boys for your viewing pleasure. Stay tuned for more details on the TFNation website -- where All Are One!