06-09-2010, 10:07 PM
GALVY
Senior Member


Posts: 349
Joined: Aug 2008
Reputation: 0

Re: Full body image of Transformers Prime Bumblebee
---
bee looks kinda ok. his face is a bit more TFANIMATED , but he looks well proportioned. as long as they get it right with the story. since it would appear theres no human cast they need to really concentrate on interaction beetween bots. not too many jokes and no nods to g1 or any line is a must.
---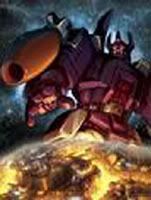 IM NOT MAD, IM LOVEABLE!!
06-10-2010, 06:08 AM
KingGrimlock
Senior Member


Posts: 654
Joined: Aug 2008
Reputation: 0

Re: Full body image of Transformers Prime Bumblebee
---
I'm actually quite liking the style. Excited for more!
---
[center]
[/center]

User(s) browsing this thread:
1 Guest(s)
Return to Top
Return to Content