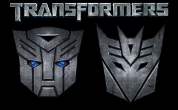 Seibertron.com has received a copy of some emails relating to a wardrobe modelling gig for Transformes 3
Quote:

Our friendís two e-mails listed the 'casting call' first as an unidentified movie, but then the second seemed to be made more specific, directly stating it was for Transformers 3. His theory for the second e-mail with the ACTUAL movie listing-- not enough folks responded with interest toward the first e-mail--.

Now, unfortunately it seems the parts the actors were to play were simply to model wardrobe and such for the movie for pictures, but it was stated that each actor would be seen by the director, so Ďyouí may have had a chance to parlay this into something more.

The response for this event has closed, and it was supposed to actually be 'performed' on THURSDAY. However, it is good to know that things are moving forward and that we do have a few clues about the human element of the movie: more military men of all ethnicities, 18-35 years old. Another interesting note though is that they listed a separate 'casting call' for military men who are also of Iranian/Middle Eastern descent.