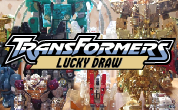 It has been bought to our attention that there is, and has been, auctions appearing on ebay
for toys claiming to be, or hinting that they could be, lucky draw items including a black Astrotrain. There is no such prize figure and what's more the figure appears to be a fake using the "lunchtime special" mold.
TakaraTomy are not releasing, or considering to release, G1 based prize figures at this time. The only prize figures recently have been based on Transformers Prime and will be based on the Transformers Go line and are well documented now on TakaraTomy's websites as well as staffs Twitter accounts.