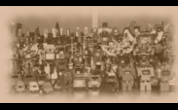 BREAKING NEWS - 20:03
We just recieved an email from Steve (Copson??) regarding a prototype Transformers display unit. Steve's email said the following...
Hi
I have just caught a glimpse of something that will wet the appetite of any Transformers collector. These are images of a prototype TF display unit made by a company called Retrobilia Industries Ltd, it is 100% official and looks totally kick ass. It seems to be based on the original TF TV advert (the one with two kids playing). I'm presuming these are going to be available for Christmas so keep your eyes and ears peeled. I will post any other info as and when I get it.
steve
Cool huh. He also sent us the picture and later added that they looked to be about 1 metre wide.