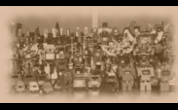 Fan2Fan have uploaded a teaser trailer for Transformers: Super Link which was shows after the last episode of Transformers: Micron Legend.
The trailer is different to the one shown at OTFCC and the best way to describe what it looks like is ZOIDS.
If you have seen the new Zoids cartoon then you will know they were CGI in a flat cell based cartoon, well Transformers: Super Link / Energon, is the same.