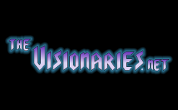 I hope that everyone is having a great time. To celebrate the holiday season we, and myself and Dave, have decided to publish one of the new articles for our "currently being revamped" Visionaries website www.TheVisionaries.net early. So as of right now you visit the website and find out about "Visionaries Reborn".

The article will take briefly take you through the last 4 years of history for the Visionaries brand enabling you to see what has been going on, why and where things are heading, or at least are trying to head. We have also included some concept art relating to the Visionaries Reborn project.

Without further ado, we present to you "Visionaries Reborn" - http://bit.ly/13Eeo6K

Disclaimer: Some of the information may seem a little sparse, but since the project is ongoing and we do not want to be sued, we have decided to leave out certain documents right now, plus we do not have access (currently) to the current or previous Hasbro work which is covered by various NDAs anyway.

Let us know your thoughts on Visionaries Reborn via Facebook, Twitter and Google Plus. What do you think of the new concept designs? The new "lifeforce" transitions, the current state of the project and any other feedback you may have.