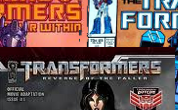 IDW Publishing have sent over 12 exclusive piece of promo art leading up today's big launch of their new Transformers ongoing title, Transformers: More Than Meets The Eye, to various Transformers and comic websites. The promotion is to remind people that Transformers More Than Meets The Eye Issue 1 is released today.
Some of the sites with the images include Full Metal Hero, TFWorld 2005, The Allspark, Seibertron, TFormers, IGN, Newsarama and Comic Book Resources.
We haven't got any exclusive IDW Comic art to show you, but what we do have is the Beast Wars II DVD Set - so we'll be bringing you lots of Beast Wars II Cartoon galleries soon.