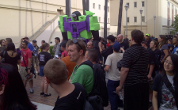 Botcon Tweeted last night that "We are now 50% sold thru on Primus and 70% sold through on Golden Ticket packages. We doubled class size this year and still sold out fast!".
The Golden Tickets are priority passes that were last used at OTFCC 2003 and proved extremely controversial.
We will continue to update you with the latest Botcon news, though you can also use our exclusive "Other Sites News / In The News" section to stay up-to-date with news from 43 different websites from around the world.