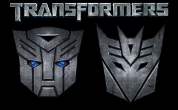 Here's a quick recap on what is known about Transformers 5
Via Coming Soon, Paramount revealed the title of Transformers 5 as Transformers: The Last Knight. Also confirmed via Instagram
Transformers The Last Knight is set to begin filming in Detroit on June 6th
Production starts this week in Cuba - https://www.instagram.com/p/BFfDgTTIWkS/?taken-by=michaelbay
The film will star Mark Wahlberg as Cade Yeager and Isabela Moner as new character Izabella.
Josh Duhamel will return to the franchise as Lieutenant Colonel William Lennox. Revealed by the official Instagram account - https://www.instagram.com/p/BFg6ffIoMvx/
Jerrod Carmichael will also be playing a role in Transformers 5.
Michael Bay is teasing that Tyrese Gibson will return - https://www.instagram.com/michaelbay/
Optimus Prime will feature in the movie voiced by Peter Cullen - https://www.instagram.com/p/BFfCGhRoMmW/?taken-by=transformersmovie
Michael Bay returns as director's chair,
The script is being written by Art Marcum & Matt Holloway (Iron Man) and Ken Nolan (Black Hawk Down).
Lorenzo di Bonaventura, Don Murphy and Tom DeSanto are producing.