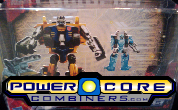 ­
The Hong Kong Transformers event Cybertron Con has not only seen the confirmation of the latest Lucky Draw Transformers toy but also has shown off new Transformers toys for 2010 and 2011.
Legends - Optimus Prime, Megatron, Starscream and Gold Bumblebee (in a homage to GoldBug)

Scouts - Windcharger

Deluxes -  Special Ops Jazz, "Turbo" Tracks, Perceptor, Scourge and Thunderwing.

Voyagers - Lugnut, Grapple

Power Core Combiner Five Packs - Grimstone with the Dinobots and Steamhammer with the Constructicons.
­