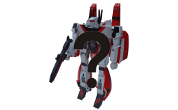 The latest issue of Figure King has hit news stands, and with it a bunch of new news to speculate about. In the issue is some excerpts from TakaraTomy's Transformers designers, among the things mentioned are:
The samurai motif for Transformers GO! was created to appeal to TakaraTomy's customers.
Response to Encore 23 Fortress Maximus was greater than expected - therefore the Encore line will continue.
Masterpiece Prowl & Streak's orders exceeded TakaraTomy's expectations - so the figures are delayed as a result of increasing production.
An announcement regarding Masterpiece Smokescreen is impending and the figure will feature a lot of new parts compared to Prowl & Streak.
TakaraTomy's designers are going to continue to bother car companies about licensing their vehicles for the Masterpiece line.
TakaraTomy's version of Metroplex will feature different colors and an additional gun compared to Hasbro's mass retail version.
Tokyo Toy Show will run on June 15th & 16th.

The first 3 Autobot GO! figures will be available to purchase early at the show.
Masterpiece Tigertrack will be available for 6,000 Yen at the show and will feature non-chromed versions of Lambor's Amazon.co.jp exclusive pile drivers over the default pile drivers included with Masterpiece LamborExpect a bit announcement at the show. Could this be Masterpiece Smokescreen or something else?

McDonald's will be running another Transformers Happy Meal promotion starting June 21st - could there be GO! Happy Meal toys on the way?