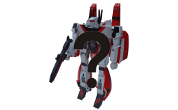 Big Bad Toy Store, who recently had to eat humble-pie with their incorrect Reissue Super Fire Convoy toy are now spreading another rumour regarding Transformers Masterpiece. The latest rumours, after the Bumblebee and Wheeljack ones from Big Bad Toys Store (still not confirmed by anyone) is that MP22 will be Ultra Magnus Perfect Edition.
Takara-Tomy's designers have spoken in the past about their hope to bring a proper Ultra Magnus toy into the Masterpiece Line, but they were not able to do so.
BBTS say
The based off the updated MP-10 Convoy mold and will at last come with an all new fully functional trailer that will combine with the Ultra Magnus cab for the ultimate display piece!
Like any annoucement form BBTS we take this with a pinch of salt and advise you not to pre-order and part with any cash yet.