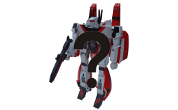 eToys Japan and various over Asian retailers are reporting via their websites and Facebook that TakaraTomy are going to be releasing a brand new Optimus Prime figure as apart of the Transformers Go! toy line number G-26 and released in Jan 2014. The report, which can be seen below, states that Prime will be a triple changer transforming from Robot to Dragon to train and will also combine with both Kenzan and Gekisomaru.
Transformers Go! G26 Optimus EX Prime by Takara Tomy. This is a Japan original design that combines with G01 Kenzan and G05 Gekisoumaru together. On its own it is a triple changer that transformers from robot to train to a Dragon. With light and sound gimmick... Pre-order releasing in Jan 2014.
The listing seems a little odd as, thus far, there has been no clue to Optimus Prime taking any action within the Transformers Go! series, other than brief appearances within the first four parts (Samurai 1-3 and Shinobi 1), so treat this as a rumour for now as no pictures are currently available and there has been no official confirmation for a toy who will supposedly be released in just a few months.