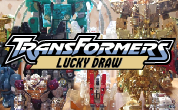 We have added an image gallery of our latest Lucky Draw figure, the
Transformers Dark Side Moon (Dark of the Moon) Gold Mechtech Deluxe Bumblebee figure
.  The toy was limited to 10 pieces and was first was Lucky Draw figure from the third live action Transformers movie, with leader class Optimus Prime, Sentinal Prime and Megatron being released afterwards.
We own the prize letter that was sent out to the winners, though that had not been added to the image gallery yet.
We have decided not to open the figure at present so the gallery only includes images of the figure still carded.
Don't forget to check out our other Lucky Draw figures at www.luckydrawtransformers.com