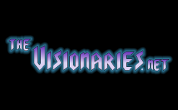 Following on from the Kabor update to TheVisionaries.net we are pleased to bring you are 2nd gallery of Season 2 2-up hardcopy weapons, this time belonging to the Spectral Knight, Lazorlash
Once again we use Witterquick as an example of the size of the 2-up.
We do not have the 2-up of the axe for Lazorlash but the shield is an interesting one in itself. Not only is it held in an unusual manner, we believe that the "broken piece" is part of a gun which he can hold enabling him to attach the shield and hold it in a more traditional fashion.
Sadly we do not have all of that piece (if you do, please let us know), but if you look at the Toy Fair image you will be able to work out how it would have worked.
You can view the gallery at http://www.thevisionaries.net/toys/spectral-knights/lazorlash/32
Enjoy!