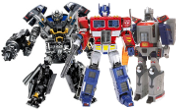 It's a sad day for European Transformers fans as Toys R Us are emailing any and all UK customers who ask about the availability of the Masterpiece Prowl figure, that the toy will no longer be made available in Europe by Hasbro Inc. As a consolation they offer to give people a free gift if they purchase an item via the online website. The exact cause is not known, it could be that stock which was going to be kepy for Europe will now be used in North America, as has been the case in the past, that the toy failed European safety tests, or that the market was simply not deemed strong enought to warrant the figures release.
Dear Customer,

Thank you for your interest in 'Transformers Masterpiece Prowl'. We have been informed by Hasbro that unfortunately this item is no longer going to be released in Europe.

Please accept our sincere apologies for any inconvenience caused by this availability change.

However, as a goodwill gesture if you purchase a Transformers item on toysrus.co.uk by 31st July 2014, we will send you a FREE* limited edition die-cast Transformers figure which isn't available to buy in UK shops!


To accept this offer, you need to place an order on our website for any Transformers toy using the same email address we have sent this message to. A free die-cast figure will then posted to your delivery address separately by the end of August, subject to the terms below.

Kind Regards

Toys R Us Direct

Please do not reply to this email. Replies to this message are routed to an unmonitored mailbox. If you have questions please go to http://www.toysrus.co.uk/contactUs.jsf.