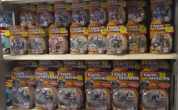 Hi I messaged Hasbro about information as to when stock for Generations Leaders will be shipping to Argos, mainly becuase I was bored asking Argos why they had none in stock.
Offical response from Hasbro UK on Facebook
The listing for the Generations Leader on the Argos site currently is a preview of the line that will be available in the Autumn-Winter catalogue, which launches at the end of July. Your best bet is always to speak to Argos about their planned stock intakes and timings, because they control their stock. Thanks Hasbro UK
Yay looks like they may be in soon then if the new catalogue is out next week.
Nic