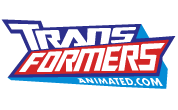 In response to a question asked by Goktimus Prime on Faceboko Madman Entertainment have confirmed that they will be releasing Transformers Animated Season 3 on DVD in 2014. They incorrectly state that this will be the first time it is released anywhere as it has already been released in Japan, however it will be the first release with the original US audio language track.
Goktimus Prime August 6 at 9:59pm
Dear Madman,
Will you be releasing Season 3 of Transformers Animated on DVD?
Thanks.

Madman about an hour ago
Yes! For the first time anywhere. First half of next year.