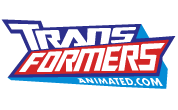 The new series has a good deal of talent onboard, including Sam Register, exec producer of Ben 10, Hi Hi Puffy Ami Yumi and Teen Titans; Vincent Aniceto, line producer (Foster's Home for Imaginary Friends, Power Puff Girls); and Marty Isenberg, head writer (Danny Phantom, A.T.O.M., X-Men, Teenage Mutant Ninja Turtles). In addition, Derrick Wyatt, character designer for smash hit Teen Titans, will take the role of lead designer.

The new 2D style that will be the show's trademark harks back to the original 20-year-old cartoon, but according to ER, the new Transformers has a different audience in mind.
That's just part of the quote on
C21 Media
which The Allspark
found
earlier today.