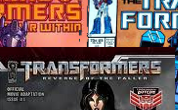 The Transformers Collectors Club website has been updated with the final version of the Wreckers storyline that was running at previous conventions. A text version had previously been available here at the AllSpark, but now club members can view the full comic version online. Here's the press release
As armies of Quintesson warriors march across Cybertron and a mad Predacon criminal begins his ascent into godhood, only the rag-tag group known as the WRECKERS can stop them! The thrilling end to the long-running saga, WRECKERS: FINALE PART 2 brings Autobots, Decepticons, Maximals and Predacons together in a battle for not just the fate of the Transformers' home world, but for the universe itself! Written by Greg Sepelak and S. Trent Troop ("The New World"), art by Guido Guidi (IDW, Dreamwave) and Drew Eiden (Fun Publications).
Credit to The Allspark for the report.