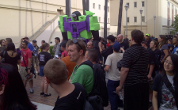 On 9th of october 2016 the german Transformers Fan Convention C.O.N.S. will return. For it's eight iteration it will come to Viersen-Süchteln in 41749 at Kolpinghaus/Josefshaus on Ostring 33. This time we prepared an all new Live Quiz Show which will be held on stage for the first time ever in germany. As usual our masters of disguises can participate in our trademark Cosplay Contest. For all of the creative types we offer the chance to partake in our Fanart and Custom Contests. And to continue the tradition we will hold an on stage raffles which offer you the opportunity to win a fine selection of Transformers related Items. Ranging from DVDs to rare collectors figures. We also invited many European Dealers, including some of europe´s finest, who will offer all sorts of Transformers Items from old to new and used to MISB. And if that's not enough! We also invited John-Paul Bove from IDW Publishing who will hold a live stage presentation. He will be joined by Mister Lohmaier from Hasbro Germany. We will be doing a live Q&A with Mister Lohmaier containing the questions we collected on our website and every question you have to ask live at C.O.N.S. VIII.
For more information check our website here.
Tickets are on sale here.
The Program:
10:30 am - Admittance for the participants of the Cosplay & Contests
11:00 am - General admittance
11:15 am - Official welcome
11:30 am - Cosplayers model show on stage
12:15 pm - Live Quiz Show
01:00 pm - IDW Artist John-Paul Bove Presentation
02:00 pm - 1st Raffle
03:00 pm - Hasbro Interview - Question & Answers
04:00 pm - Transformers Quiz sheet turn-in
04:15 pm - End of voting for the Contests
04:45 pm - Announcement of the Contests Winners
05:00 pm - 2nd Raffle & Star Price raffling
06:00 pm - Thank Yous & Goodbyes
We are looking forward to each and every one of you and wish you a warm welcome to Germany and C.O.N.S. VIII.
Source: C.O.N.S., C.O.N.S. on facebook, Event on facebook