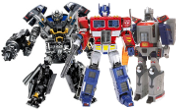 As has been expected, Hasbro UK are set to show off the Transformers 4 figures at the UK toy show here in London England on the 21st Jan. The bad news though is that no images and very little information, will be able to come out of this event due to the level of restrictions Hasbro UK have in place during the event.
The toys will only be shown off in Hasbro's "back room" which can be is only open to those with pre-arranged timeslots. These needs to be arranged through sales managers and are only granted to stores who hold large enough accounts with Hasbro. All photography is restricted within this area and, in the past, where leaks have happened, Hasbro UK have closed their booths and have tracked the leaks and threaterned to take legal action against those people. At one show, the G.I-Joe Movie products leaked thanks to photographs of some cards that were on display. This lead to Hasbro closing their booths to restrict further leaks of all of their items. We spoke to a representative of Hasbro's during that show who told us that they obviously have a list of everyone who has seen the products and the times that they saw the products, so tracking down the leaked source is not a difficult task. Sadly whilst these leaks are great for us fans, it does have the effect that retailers then can not see the products and this can lead to them being put off from even stocking them in the future.
That being said, other Age of Extinction licensed products will be shown at the event including Board Games and Bicycles. For those lucky enough to be allowed access to the Hasbro displayed, they will get to see 30 new characters 15 from the fourth movie and another 15 from the 30th Anniversary line.
All of the figures and, no doubt others, will then be shown off a month later at the US Toy Fair where the photography will be allowed.