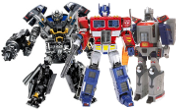 Once again sorry for the delay, professional deadlines have be coming thick and fast over the last couple of months though we hope to get back to regular timely updates soon.
First up Jose Lopez, Art Director/Character Designer on Transformers Prime and Robots in Disguise, shared on his Instagram concept art of Optimus Prime and design sketches of Windblade of their appearance in ongoing TV series Robots in Disguise.
Next up the french episodes titles and synopsis have been released for Transformers: Robots In Disguise episodes 16 - 18, translations of which can be viewed below.
#16: Sideswipe perd la tête (Sideswipe Loses His Head) "When the last team training leaves Sideswipe without strength, the young Autobot realizes that he can not always rely on his physical strength."

#17: L'honneur avant tout (The Honor Above All) "Drift returns to Earth in pursuit of a fugitive Jetstorm. At the same time Team Bumblebee faces Springload and Quillfire who escaped."

#18: La blessure de Grimlock (The Injury to Grimlock) "Unaware that Grimlock hides a serious injury, Bumblebee and the team make their way to the ocean in pursuit of an escaped Decepticon."
Credit to TFW2005 for the story
3rd on the list of update is new that the TFCC Lio Convoy figure is starting to arrive to memberrs of the club within the United States so he should start turning up at doors internationally in the next month.
Finally, Transformers Combiner Wars Leader Class Ultra Magnus has been spotted at US Retail in Texas.