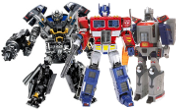 TakaraTomy have announced that their live Masterpiece Fans Choice broadcast will take place on Tuesday 19th November at 20:00 - 21:00 (local Japanese time) and will be broadcast live on their YouTube Channel. Their will be guest appearances during the show as well as build up throughout the day via Twitter from what they are calling the "Transformers Information Bureau" (@tf_PR).
The broadcast will, most likely, be done via Google Hangouts On Air, though this has not been confirmed at this time.
For those in other timezones the announcement will be at:
3am PST, 4am MST, 5AM CST, 6AM EST UTC-5, 9am BRST or 11am GMT.
You can view the time in your timezone by using this link to EveryTimezone.com