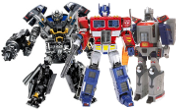 Takara-Tomy have sent a marketing email to point out their lottery sales of a thres set of Transformers Generations toys, Miraga (Riji), Hound and Ironhide TRANSFORMERS SPECIALIST AUTOBOTS listing

The three pack is excluisive to Japan and the details are below.

200 lottery sales limit of Tomy mall limited. ¥ 11,800.
From February 25, lottery, accepting up to 13:00 on March 25.
The winner, there is a contact until March 28, release of the product talk of June 25.
At the bottom of the link, there is the application form of lottery sales.

The toys are very close to the Asia exclusive versions, with subtle colouring differences. There is currently no mention of a Decepticon set, though that is liktley to change.