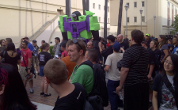 Botcon have announced, via their Facebook page, that Aaron Archer shall be a guest thiss years Botcon. Here is a copy of the announcement
"Our other big announcement is that our final guest for BotCon 2016 is none other than Aaron Archer! From the Beast Wars line through Transformers: Robots in Disguise, Aaron has been part of the production of thousands of Transformers toys. Aaron was also part of the Hasbro team that worked with Paramount and Michael Bay to bring the Transformers to life across four films and Transformers: The Ride. During Aaron's time on Transformers he worked to expand the Transformers mythos beyond toys to publishing, television, movies, video games, and fan conventions."
Having left Hasbro to work on his own thing, Aaron returned to the toy industry giant to work on other brands.