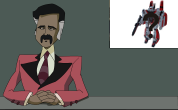 We have found a new trademark filed with the USPTO by Hasbro Inc. The trademark is:
That's not a typo, Hasbro Inc have applied for the text mark "THE PREMIER HASBRO FANMILY EVENT" which we no doubt shall be used within the promotion of the upcoming Hascon convention laster this year.
You can view all of the details of these and other trademarks within our exclusive Trademark Application area of the website which features trademark applications from 1984 through until the present day.