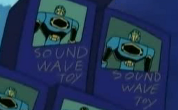 It:s taken quiet a while but Transformers has finally shifted Ben 10 off the top of the Action Figure charts (although it still lags behind it as an overall toy property in the UK).
Time to celebrate Hasbro UK - why not spend a little money and send some staff to Auto Assembly, which in on next week (shameless plug).
The NPD Research shows that Action Figures and Role play had a good month (June 2009) mainly due to Transformers and the release of the Transformers Revenge of the Fallen movie,  The property only came out in Mid June yet shifted enough to put it to the top of the Action Figure charts.  HM Armed Forces and Bakugan also continue to to well.
Best Item Progression June 2009 goes to Transformers Movie Deluxe Figures (Hasbro) With the launch of the new movie, the toys rose from number 695 to number three in just one month.  The Movie legends Assortment is also in fourth place,