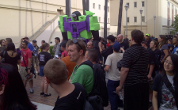 Hasbro have issued a press release revealing details for the upcoming Cybertron Con 2016 which is set to take place in China at Shanghaimart Expo from July 29th to 31st. You can find a summary of the key points below as well as the full press release underneath that.
·Toy Exhibit – Cybertron Con 2016 will hold a toy exhibit featuring hundreds of Transformers toys from across the franchise's history
·Peter Cullen Appearances – Peter Cullen will hold fan meeting panels and limited autograph sessions, 150 a day, at the event.
·Guest Appearances – Transformers Prime concept artist Walter Gatus, Hasbro Development director of Hasbro's TV and film division Josh Feldman, Takara Tomy designers Shogo Hasui and Yuki Hisashi and IDW comic collaborators Sara Pitre-Durocher, James Raiz and Alex Milne
·Statues – The event will feature a five-meter high Optimus Prime statue, as well as a number of other costumed Autobot and Decepticon characters roaming the expo floor
·Limited Edition Collectibles – Limited edition Transformers merchandise shall be on sale including the San Diego Comic-Con special edition products.
·TF Tmall –The launch of the TF Tmall flagship store, which will host a series of promotions and other surprises throughout the convention
·Fan Art Competition
·Family Zone – An area for kids and parents to create their own Transformers characters at the 3D Brush Workshop, partake in a coloring game and more
Cybertron Con Landing in Shanghai this Summer

Hasbro Brings Authentic Transformers Global Celebration to Chinese Fans

July 12, 2016, Shanghai – Today Hasbro Inc. officially announced that the 2016 TRANSFORMERS Cybertron Con will be presented to Chinese fans at the Shanghaimart Expo in Shanghai from July 29th to 31st. The convention will be the largest Transformers fan celebration ever held in China, offering attendees the chance to engage with the brand, experience some of the latest toys and consumer products, view exclusive previews of Transformers content and meet some of the most notable names associated with the franchise, including concept designers, illustrators, writers and voice actors.

From the earliest toy series launched by Takara, to Hasbro's popular G1 TV series, through comics, video games and feature films, the Transformers brand has become deeply rooted in the hearts of fans around the world. The original animated series debuted on TV in the 1980s in China and has become a shared childhood memory for a generation. TRANSFORMERS Cybertron Con will take fans on a journey through the history of the Transformers franchise, exhibiting hundreds of the most iconic toys released between the brand's launch in the early 1980s through some of the best-selling items available today.

The convention will also offer fans the chance to interact with a five-meter high Optimus Prime Statue and costumed characters of other notable Autobots and Decepticons which are customized for Shanghai Cybertron Con.

One of the biggest VIP guests at Cybertron Con will be Peter Cullen, the voice actor behind Optimus Prime. Peter has worked on the Transformers franchise for more than 30 years and has provided his talents to each of the blockbuster feature films inspired by the brand. He will host fan meeting panels on both days of the convention, with a limited 150 autograph opportunities each day for fans to buy.

Other notable attendees will include Walter Gatus (concept artist of Transformers: Prime), Josh Feldman (Development director of Hasbro's TV and film division) and Takara Tomy designers Shogo Hasui and Yuki Hisashi from Takara Tomy, who are responsible for numerous well-known Transformers characters. The two designers will attend the autograph session for three days and attend the Q&A session at main stage on Saturday and Sunday.

TRANSFORMERS Cybertron Con will also feature appearances from Sara Pitre-Durocher,James Raiz and Alex Milne, who have each written for IDW's Transformers comic series.

Fans in attendance can also take part in a fan works contest, in which Transformers-related works of illustration, coating and modeling are to be rated by special guests. Amateur competitors from China can bring extraordinary works with them. If you have some talent to offer, join the Fan Art Competition before July 15, 2016, and showcase your passion and imagination with the best of your works. This Fan Art Competition are endorsed by Hasbro and IDW. Winners will be rewarded with abundant of prizes, as well as potential opportunities to work on official Transformers production. This is truly a dream come true for the fans.

Devoted players will turn the trial play area of the Game Zone into a battlefront. For collectors, Hasbro will bring San Diego Comic Con special edition products to 2016 Cybertron Con. Additionally, over 20 Hasbro authorized dealers will be on hand selling various products, including hundreds of types of authorized toys. Their booths will occupy much of the 8500 square meter exhibition hall.

Fans are also welcomed to bring their children to the family zone at TRANSFORMERS Cybertron Con, which is orchestrated for parent-child interaction. Kids can create their own Transformers' characters at 3D Brush Workshop, enjoy the unique Transformers coloring game, and send postcards with exclusive stamp on it to their beloved superheroes at Transformers-themed post-office. There are also various interesting games waiting for the new generation of fans to have a try.

Additionally, TF Tmall flagship store will be launched officially on the same day of TRANSFORMERS Cybertron con opening, in which, there will be a series of promotions and some surprises brought from the Cybertron Con. Please visit our Tmall or Cybertron Con Website for more information. Stay tuned!

"TRANSFORMERS Cybertron Con in Shanghai is an important event for Hasbro and the Transformers franchise as a whole," said Michael Zhang, Country Head, Hasbro China. "The Chinese public has been extremely receptive to the Transformers brand, and it's exciting to bring such a marquee event to them directly. Hasbro strives to offer fans new and immersive brand experiences, and this convention will deliver on that with rich content, engaging exhibits and live interactions."

Vicky Au, the Managing Director from FM Group, organiser of 2016 TRANSFORMERS Cybertron Con, said to the reporters: "I'm sure the TRANSFORMERS Cybertron Con in Shanghai will be an unprecedented celebration. FM Event will try its best to ensure that fans and audience at the Con have a wonderful time. There is even one more good news: 'Transformers Challenge', the large indoor sport challenge event licensed by Hasbro, will be launched on August in Shanghai and Guangzhou. Every challenger will wear a RFID bracelet which records the score of each challenge to redeem souvenir. Come together with your friends and families in summer!"

To find out more about Cybertron Con, please click www.cybertroncon.cn