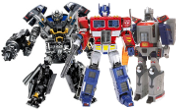 iGear toys have announced, via TF08.net, that they will be producing an add-on pack for the FansProject's City Commander Transformers Classics Ultra Magnus upgrade pack.  Their pack comes with a new head, missiles, sword and gun.  So far only a 3D render of the items has been shown.
iGear toys have also announced that they will be producing a Auto-Scout cassette of their own, which will rival the TFCToys Gears of Wars set.  An early prototype and renderings have also been shown of these. 
The packs have a release date of April and you can view all of the images below.