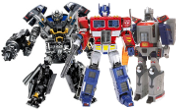 Last Maximal has posted two images over on the Allspark which show that the recolour of Transformers Classics Optimus Prime that has recently popped up in some auctions is an upcoming release from Platinum Series two pack with a redeco of Voyager Classics Megatron!
The toys within the pack are redecos of the original Transformers Classics Voyager molds for the same characters. Optimus Prime retains his traditional red and blue deco, but uses clear blue panels on the arms and has a Autobot symbol stamped on his wind vane. The Megatron has a silver body, with red forearms and red-and-black legs, in robot form whilst the gun mode is mainly red to pass the requirements to make toy guns look like toys and not real guns.
The set is called "One Shall Stand, One Shall Fall" and much like the Platinum series Planet of Junk Clash set, is another special edition being made to celebrate the 30th anniversary of Transformers: the Movie.
According to Last Maximal, this set is out in specialty stores in the Philippines.