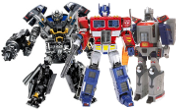 HK-TF's Facebook page has been updated with images of Unite Warriors Grand Scourge. Grand Scourge comes with two purple Ion Blasters, which can combine into one larger rifle, and the Matrix Breaker, a reused sword from the Beast Hunters Ultimate Class Optimus Prime.
The story behidn the sword is that its rumored to be so powerful that it cans separate the link between an Autobot leader and their Matrix of Leadership, which will be interesting to see if the character makes it into the show
For those keeping score this is the 6th use of the toy.