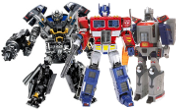 Thanks to Snakas for pointing out he new information and images of the Transformers Cloud toys which were annouced yesterday, Brawn and Starscream.
Releelease Informmation
Brawn - Release due 28th August, orders go online for 7 days in April for ¥ 5,940 direct fromom Takara-Tomy

Starscream - Release dduee late August, orders available from 4th April

¥ 5,940via e-Hobby Shop

Details
Brawn - based on first edition Bulkhead from Transformers Prime with a new head sculpt. The figures' colourrs are based on the original Generation One toy ratehr than the unreleased Asia Excluisve figure (from which the head is taken from.
Starscream - Baed on thehe Generations One beturinng Double Dealers head (previousllyy not released in Japan). The toy also comes with null rays which came with the Masterpiece MP3 Starscrem figure.